Spring Washers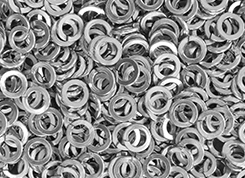 Spring washers are normally made out of spring steel and are hardened to HV 430 to 530 and are used along with almost every externally threaded fastener. Due to their Spring action, they give a locking effect to the tightened fastener, when fastened with Spring washer.
Flat and square sections are the most common used types of spring washers. Square section spring washers are normally used for fasteners with cylindrical heads and flat section for all other type of heads. Square section spring washers are lighter, and thereby cheaper than the ones with rectangular section.
These washers are normally available in auto black (black) finish. Other finishes like White/Yellow/Blue Zinc coating (with hydrogen de-embrittlement), cadmium plated, nickel-plated, bright chromium plated and phosphated are also available.
Specifications:
Materials: Low Carbon Steel, Spring Steel (EN42), Aloy Steel, Stainless Steel, Phosphor-Bronze, Silicon-Bronze, Nickel-Copper-Aluminum and any other material to the customers requirments.
Size: M3 to M48, 1/8" to 1-3/4"
Finish: plain, oiled, auto black, hot-dip galvanized, electroplated (with de-embrittlement)
Standards: DIN 127B (Flat Section), DIN 7980 (Square section), ASME B18.21.1 (Helical Spring-lock washers – regular, heavy, extra-duty & high-collar), JIS B 1251 (Regular & Heavy duty), IS 3063, IS 6735, BSS 1802, BS 4464
Tests we do for our Spring-lock washers: Chemical composition, Hardness, Decarburization, Washer cross-section, Coiling, twist test, free height, toughness, appearance, compression test.
Typical dimensions for DIN127B/ IS3063 (or other flat section spring washers)